I am curi­ous by nature, and each time I am going to buy a new prod­uct I always check if some­one has already hacked it in some way I may like.
I like the idea to extend the fea­ture set that the man­u­fac­turer has thought of when design­ing the product.
Truth is that this is pos­si­ble only with a lim­ited num­ber of prod­ucts. Often it's also needed a good degree of 'hack­ing' skills not to brick your new toy.
Just think about what peo­ple has done with hacked Kin­dles, or WiFi routers or have a look at the Spacepi­rates Wiki to find some ideas.
Below you can have a look at a Kin­dle hacked to be a weather station.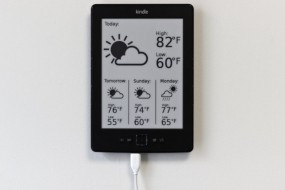 I love this Kin­dle hack for two rea­sons. First it's sim­ply gor­geous. Sec­ond it's not built upon old hard­ware but Matthew built it from a brand new Kin­dle. I think this is just a clear exam­ple of what I am talk­ing about in this post.
Another thing I love about this is that you can bring new life to old stuff with­out the need to waste it. It's like inject­ing a new soul to a dead body.
Unfor­tu­nately all elec­tron­ics out there is not designed to allow you to do this. The ques­tion is: why?
Short answer is that you will increase sup­port costs, you will need a new approach to war­ranty and you will have to deal with a whole new class of cus­tomer requests.
Well, so what?
Isn't it about time to think about con­sumer prod­ucts in a dif­fer­ent way?
What if they were orig­i­nally designed to be aug­mented in their func­tion­al­ity from the very begin­ning? What if ven­dors open their inter­nals and pub­lish SDKs and HDKs for those who want to tin­ker the product?
I think each prod­uct should have an ecosys­tem around it. All prod­ucts must not be 'fire and for­get' products.
This kind of approach would be greatly ben­e­fi­cial to hard­ware man­u­fac­tur­ers. It will increase the prob­a­bil­ity of sell­ing the prod­uct and will cre­ate an inno­va­tion loop exter­nal to the com­pany. Sure, not all users are able today to hack their devices, and that's why it's just too com­plex. What if things were as sim­ple as installing a new app on their smartphone?
An idea for a startup
So, why don't we think about a startup that can hack your old or new gad­gets for a fee?